Concert by the Ives Ensemble
as part of the exhibition Kazimir Malevich and the Russian Avant-Garde 20 October 2013, 16.00 Auditorium, Stedelijk Museum Amsterdam programma: Arthur Lourié – Formes en l'Air Nikolai Roslavets – Sonata for viola and piano nr.1 Dimitri Shostakovich – Piano Sonata nr.1 Sergei Prokofieff – Quintet op.39
John Snijders & Sarah van Sonsbeeck
Increasing – Decreasing 31 October – 17 November 2013 The Mayor's Residence Herengracht 502, Amsterdam as part of Chambres de Canaux – The Tolerant Home
iamsterdam.com
Concert John Snijders mmv leden van het Ives Ensemble
Friday, May 17 at 8:15pm in UTC+02 Stadsgehoorzaal Leiden in Leiden, Netherlands
John Snijders speelt een bijzonder soloprogramma met werk van vier muzikale pioniers uit de Verenigde Staten van de vorige eeuw. In de Concord Sonata van Ives wordt hij bijgestaan door twee (mede)leden van het Ives Ensemble.
programma: Charles Ives – Study No. 21 - Some Southpaw Pitching Henry Cowell – The Tides of Manaunaun Dane Rudhyar – Granites, Five pieces for piano Henry Cowell – Aeolian Harp en The Banshee Carl Ruggles – Evocations, Four Chants for piano Charles Ives – Piano Sonata No.2 "Concord, Mass., 1840-1860"
Concert 2 mei 2013muziekgebouw aan 't IJ Amsterdamgiacometti cyclus van piet-jan van rossum
Ives Ensemble
Morton Feldman
Ives Ensemble
20 – 22 February 1994 Theater Romein Leeuwarden, the Netherlands HatHut Records hatART CD 6159
John Cage
Ives Ensemble
Ten Ryoanji Fourteen
20 – 22 February 1994 Theater Romein Leeuwarden, the Netherlands HatHut Records hatART CD 6159
Richard Rijnvos
Ives Ensemble
Le rideau se baisse… Stalker Stanza - Stanza - Stanza Palomar Atlantique
conducted by Richard Rijnvos 21 February 1994 and 14 May 1996 Theater Romein Leeuwarden, the Netherlands Composers' Voice - CV 82
John Cage
Ives Ensemble
Five2 Seven Two6 Five5 Seven2
Theater Romein Leeuwarden, the Netherlands Hat Hut Records hatART CD 2-6192
Ron Ford Cross
Ives Ensemble
Richard Ayres
Untitled
Gene Carl
Claremont Concerto
Mica Hamel
there was nothing nobody could say
Richard Rijnvos
Gigue et double
Ivo van Emmerik
Valise
Theater Romein Leeuwarden, the Netherlands Ives Ensemble MUSIC + PRACTICE Composers' Voice - CV 63
Morton Feldman
Ives Ensemble
Trio
16 & 17 March 1996 Sendesaal HR Frankfurt, Germany Hat Hut Records hatART CD 6195
Aldo Clementi
Ives Ensemble
Impromptu Om dagen i mitt arbete… Settimino Scherzo …im Himmelreich Madrigale
30 September – 1 October 1996 1 & 2 December 1997 Theater Romein Leeuwarden, the Netherlands Hat Hut Records hat[now]ART 123
Morton Feldman
Ives Ensemble
For John Cage
17 & 18 November 1997 Sendesaal HR Frankfurt, Germany Hat Hut Records hat[now]ART 124
Clarence Barlow
Ives Ensemble
1981 Variazioni e un pianoforte meccanico Fantasia quasi una sonate "Spright the Diner" by Nib Wryter
19 – 21 January 1998 7 & 8 April 1998 Sendesaal HR Frankfurt, Germany Hat Hut Records hat[now]ART 126
Morton Feldman
Ives Ensemble
Piano and String Quartet
1 & 2 October 1998 Sendesaal HR Frankfurt, Germany Hat Hut Records hat[now]ART 128
Ivo van Emmerik
Ives Ensemble
Documents pour servir de canavas Birdstone
12 – 14 April 1999 Theater Romein Leeuwarden, the Netherlands Composers' Voice - CV 97
Morton Feldman
Ives Ensemble
String Quartet (II)
23 – 28 August 1999 Sendesaal HR Frankfurt, Germany Hat Hut Records hat[now]ART 4-144
Richard Rijnvos
Ives Ensemble
Block Beuys - Raum 1 Block Beuys - Raum 2 Block Beuys - Raum 3 Block Beuys - Raum 4 bis 7
conducted by Richard Rijnvos 3 and 4 May 2000 Maria Minor Utrecht, the Netherlands Hat Hut Records hat[now]ART 147
Christopher Fox
Ives Ensemble
Straight lines in broken times Etwas Lebhaft Themes and Variations Reeling
conducted by Richard Rijnvos 29 June – 1 July 2002 Theater Romein Leeuwarden, the Netherlands Metier MSV CD92081
Morton Feldman
Ives Ensemble
String Quartet
4 - 6 July 2005 Sendesaal HR Frankfurt, Germany 29 June – 1 July 2002 Hat Hut Records hat[now]ART 167
Michel van de Aa
Ives Ensemble
Above
2000 Maria Minor Utrecht, the Netherlands Composers' Voice - CV 119
Luc Ferraria
Ives Ensemble
Sexolidad
conducted by Richard Rijnvos April2007 Muziekgebouw aan 't IJ Amsterdam, the Netherlands Elica MPO 4301
Rozalie Hirs
Ives Ensemble
Sacro Monte
November 1998 Stadsgehoorzaal Leiden, the Netherlands Present 95008
Nieuw Ensemble
Brian Ferneyhough
Nieuw Ensemble
La Chûte d'Icare
October 1988 Maria Minor Utrecht, the Netherlands Etcetera Records KTC 1070
Brian Ferneyhough
Nieuw Ensemble
Shadowtime
9 July 2005 Coliseum London, UK by BBC Radio 3 NMC Records NMC D123
Francis Poulenc
Nieuw Ensemble
Les Mamelles de Tirésias
Opera Trionfo June 2002
Felix Meritis
Nieuw Ensemble
Amsterdam, the Netherlands Brilliant Classics 92056
Robert Heppener
Nieuw Ensemble
Trail
7 September 1995 Muziekcentrum Vredenburg Utrecht,the Netherlands Composers' Voice - CV 62
Theo Loevendie
Nieuw Ensemble
Strides Six Turkish Folkpoems Back Bay Bicinium
1990 Maria Minor & Muziekcentrum Vredenburg Utrecht, the Netherlands Etcetera Records KTC 1097
Otto Ketting
Nieuw Ensemble
De Overtocht
12 November 1992 Dr.Anton Philipszaal Den Haag, the Netherlands Composers' Voice - CV 55
Theo Verbey Inversie
Nieuw Ensemble
10 December 1992 Muziekcentrum Vredenburg Utrecht,the Netherlands Composers' Voice - CV 31
Jonathan Harvey
Nieuw Ensemble
Scena
Irvine Arditti July 1994 De Vereeniging Nijmegen,the Netherlands Audivis Montaigne MO 782034
Music from Theresienstadt
Nieuw Ensemble
Hans Krása Pavel Haas Gideon Klein
7 June 1995 Concertgebouw Amsterdam, the Netherlands RN Classics 93007
Roberto Gerhard
Nieuw Ensemble
Libra Three Impromptus Concert for 8 Gemini Leo
April & July 1996 Muziekcentrum Vredenburg Utrecht, the Netherlands Tilburg, the Netherlands Espace de Projections, IRCAM, Paris, France Largo 5134
Elliott Carter
Nieuw Ensemble
90+
December 1999 Kleiner Sendesaal WDR Köln, Germany Naïve MO 782089
New Music from China
Nieuw Ensemble
Mo Wuping Guo Wenjing Tan Dun Xu Shuya Qu Xiaosong 1991, 1992 Amsterdam & Utrecht, the Netherlands Zebra 001
Guo Wenjing
Nieuw Ensemble
Wolf Cub Village
26 June 1994 Westergasfabriek Amsterdam, the Netherlands Zebra 002
James Dillon
Nieuw Ensemble
Vernal Showers
Irvine Arditti July 1994 De Vereeniging, Nijmegen, the Netherlands Naïve, MO 782046
Luctor Ponse
Nieuw Ensemble
Concerto I pour piano, orchestre et bande magnetique
John Snijders Richard Dufallo Radio Filharmonisch Orkest 15 December 1989 Muziekcentrum Vredenburg Utrecht, the Netherlands Q Disc Q97041
Karlheinz Stockhausen
Nieuw Ensemble
Gruppen
ASKO/Schoenberg Ensemble, Amsterdam Sinfonietta, Nederlands Blazers Ensemble, Nieuw Ensemble, Slagwerkgroep Den Haag 3 September 1995 Concertgebouw Amsterdam, the Netherlands Etcetera KTC 9000 - SA CD 09
Mauricio Kagel
Nieuw Ensemble
Kantrimiusik
January 1997 Theater Romein Leeuwarden, the Netherlands Winter and Winter 910 150-2
Schoenberg Ensemble
Hans Werner Henze
Schoenberg Ensemble
Elegy for Young Lovers
27 September 2000 Concertgebouw Amsterdam, the Netherlands Etcetera KTC 9000 - SA 2CD 11
Louis Andriessen
ASKO/Schoenberg Ensemble
De Tijd
1 June 2005 Concertgebouw Amsterdam, the Netherlands Attacca 25100
Ruth Crawford Seeger
Schoenberg Ensemble
Music for Small Orchestra Three Songs Rissolty Rossolty
February 1992 Maria Minor Utrecht, the Netherlands Deutsche Grammophon 449 925-2
Steve Reich
Schoenberg Ensemble
Tehillim
August 1993 Wisseloordstudio's Hilversum the Netherlands Nonesuch 79295
John Snijders
Transatlantic Swing
John Snijders
Christopher Fox
lliK.relliK
Richard Rijnvos
Study in five parts for piano
Luca Francesconi
Mambo
Ivo van Emmerik
Polyphon gefasstes Weiss
James Rolfe
Idiot Sorrow
30 November, 2&3 December. 1997 & 11 – 14 April 1999 Theater Romein Leeuwarden, the Netherlands Hat Hut Records hat[now]ART 149
Richard Rijnvos
Richard Rijnvos
NYConcerto
Celso Antunes Netherlands Radio Chamber Philharmonic June 2011 MCO, Hilversum Challenge Classics CC72538
Christopher Fox
Straight lines in broken times
Christopher Fox werd geboren in York (Engeland) in 1955. Hij studeerde compositie bij Hugh Wood, Jonathan Harvey en Richard Orton in Liverpool, Southampton en York. In 1981 won hij de compositieprijs van de Performing Rights Society of Great Britain. Sindsdien heeft hij een reputatie als een van de meest eigenzinnige Britse componisten van zijn generatie. Hij doceerde van 1984 tot 1994 tijdens de Internationale Ferienkuse für Neue Musik Darmstadt. Van 1994 tot 2004 was hij leraar aan de Universiteit van Huddersfield. Momenteel doceert hij compositie aan Brunel University Londen. Behalve componist is hij ook schrijver over muziek. Zijn artikelen zijn gepubliceerd in onder andere Contact, Contemporary Music Review, Contrechamps, Musical Times en Tempo. Hij was redacteur van het boek Von Kranichstein zur Gegenwart (1996, Deco Verlag, Stuttgart), de geschiedenis van 50 jaar Ferienkurse in Darmstadt, en van Uncommon Ground, een boek over de muziek van Michael Finnissy (Ashgate Press, 1998, London). In eerste instantie (1989) bestond Straight lines in broken times uit schetsen voor een compositie voor instrumentaal trio. Daarna, in 1991, was het een computerprogramma dat het basismateriaal genereerde voor een orgelstuk voor Huub ten Hacken, dat in première ging in de St. Janskathedraal te 's-Hertogenbosch. Vervolgens genereerde hetzelfde programma in 1992 het materiaal waarop ik onderhavige compositie voor het Balanescu-Heaton-Pruslin Trio baseerde (viool-klarinet-piano). Hoewel de twee werken uitermate verschillen in instrumentatie, beduidend verschillend zijn in de manier waarop de instrumenten gebruikt worden en volkomen anders zijn wat betreft de toonvolgorde, doorlopen zij desalniettemin dezelfde ideeën. Hoewel nogal verwarrend, zijn ze dientengevolge van dezelfde titel voorzien. Straight lines in broken times2 voor trio is opgedragen aan de briljante Nederlandse componist Richard Rijnvos, aan wiens schrijftafel ik aan de laatste stadia van het stuk werkte.
Morton Feldman
Instruments
Morton Feldman werd op 12 januari 1926 in New York City geboren. Op twaalfjarige leeftijd studeerde hij piano bij Madame Maurina-Press, zelf een leerlinge van Busoni. In 1950 vond Feldmans tot dan toe belangrijkste ontmoeting plaats, die met John Cage. Daarmee begon een artistieke vriendschap die van enorme betekenis zou zijn voor de Amerikaanse muziek in de jaren '50. Vooral onder invloed van schilders als Mark Rothko, Philip Guston, Franz Kline, Jackson Pollock en Robert Rauschenberg kwam Feldman ertoe zijn eigen klankwereld te zoeken, een directer, lichamelijker klankwereld dan er tot dusverre bestond; maar ook een taal die betrekking heeft op het non-figuratieve, 'naamloze' aspect van de abstract-expressionistische beeldende kunst. Vanaf het eind van de jaren '70 begonnen zijn composities sterk in lengte toe te nemen, zozeer dat een uitvoering van het Tweede Strijkkwartet wel vijf uur in beslag neemt. Op 3 september 1987 overleed hij, 61 jaar oud, in zijn huis in Buffalo. Tussen 1974 en 1978 schreef Feldman een viertal werken met de even eenvoudige als doeltreffende titel Instruments. Instruments 1 voor 5 spelers is een van de eerste werken waar de componist begint te experimenteren met fragmenten muziek die wel gecoördineerd zijn maar niet recht onder elkaar staan: op een paar plekken in de partituur hebben alle spelers verschillende maatsoorten maar komen de partijen na verloop van tijd weer recht onder elkaar te staan. Dit procedé werd later in werken als Why Patterns? (met als ondertitel Instruments 4) en Crippled Symmetry tot in het extreme uitgewerkt.Een ander kenmerk van dit werk is het gebruik van extreem hoge en lage liggingen, met name in de hobo en de trombonepartijen.
Het Quintet werd geschreven in 1994 en in première gebracht op het Almeida Festival in Londen in 1995. Het bestaat uit één ononderbroken deel opgebouwd uit negen secties. (G.B.) Gerald Barry werd geboren in County Clare, Ierland in 1952. Hij studeerde orgel bij Piet Kee en compositie bij Mauricio Kagel en Karlheinz Stockhausen. In 1979 kreeg hij bekendheid met zijn radicale ensemblewerken "_______" en "Ø". Veel van zijn werk komt direct voort uit zijn opera's The Intelligence Park (première in 1990 in het Almeida Festival, Londen) en The Triumph of Beauty and Deceit, geschreven in opdracht van Channel 4 Television en uitgezonden in 1995. De laatste jaren heeft Barry vooral veel kamermuziek gescheven zoals 1998 voor strijkkwartet, In the Asylum voor piano trio, en Six Marches for String Quartet. In opdracht van het Ives Ensemble componeerde hij in 1996 Piano Quartet no. 2 en in 2003 L'Agitation des Observateurs, Le Tremblement des Voyeurs voor trompet en ensemble. In 2004 ging zijn opera The Bitter Tears of Petra von Kant (naar het gelijknamige toneelstuk van Rainer Werner Fassbinder) in première in het festival van Aldeburgh. In opdracht van Radio France schreef hij in 2007 speciaal voor de Canadese sopraan Barbara Hannigan de eenakter La plus Forte, op tekst van August Strindberg. In 2011 ging zijn vierde opera in première in Los Angeles, "The Importance of being Ernest".
Leven onder de beschermende mantel van wat Freud het 'pleasure principle' noemt vereist meer dan berusting. Als we volwassen willen worden dan is het verder komen dan de bleke verlokkingen van het postmodernistische high-worden niet alleen een verplichting voor de Freudiaan maar ook voor de scheppend kunstenaar. De mantra kennen we maar al te goed: als ik ervan houd, wat kan ik dan doen om het te herhalen? Als ik het herhaal, wat kan ik anders dan er verveeld door raken? Een mogelijk antwoord zou kunnen zijn (moet zijn): maak van de herhaling iets oneindig variabels. Dit is wat Clementi de laatste dertig jaar heeft gedaan. Hij heeft een technisch antwoord gevonden op de bekende vraag wat te doen, muzikaal, met de complexe eigenschappen van geheugen, de koppige vasthoudendheid van de Proustiaanse 'petite phrase'. (Proust suggereerde in Le Temps retrouvé dat de kracht die van zo'n frase uitgaat, zoals het dopen van een madeleine in de thee, bestond uit het oproepen van een vreugde die buiten de tijd staat, iets waar Swann, de precieuze amateur, geen technisch antwoord op kon vinden.) Beethoven en Brahms gebruikten deze kracht, deze drang om te herhalen, door te variëren. Clementi construeert canons. Voor de hedendaagse historicus heeft de canon plechtige associaties. Hij denkt aan Webern die nog steeds in ontzag was voor Heinrich Isaac en de vijftiende eeuw, en die uit de radicale organisatiestuctuur van Schoenbergs twaalftoonstechniek extreme consequenties trok. Aan Dallapiccola die voor zijn geliefde teksten altaren van kristal maakt. Om vervolgens bij Clementi met de droogste soort Siciliaanse ironie geconfronteerd te worden en vernietiging van het geliefde object als alternatief voor dwangmatige herhaling te vinden. Dit technisch uiterst veeleisende spel met de lineariteit van de tijd wordt gebruikt, als een Medusa, om een complex web te weven van iets dat ooit het sensuele spoor van een humaan gebaar was. Clementi was een kind van zijn tijd en meer dan zijn tijdgenoten medogenloos in zijn pogingen de lei schoon te vegen van de echo's van een fataal gecompromitteerd verleden. Clementi construeerde zijn muzikale objecten vanuit de abstracte democratie van de twaalftoonsreeks. Maar de glazen bel die het modernisme van de jaren vijftig omhulde moest vroeger of later wel breken, daarmee Clementi's generatie dwingend tot ingenieuze compromissen met de historiserende cultuur rondom hen. Sommigen bleven de afstand bepalen tussen dat waar ze nog steeds verliefd op waren en dat wat het nu mogelijk was te zijn (denk aan Berio's poging een langdurige relatie aan te gaan met Monteverdi of Mahler of Verdi). Anderen vielen in de fatale val van het proberen te 'zijn', zichzelf te herscheppen in het object van hun passie en daarmee een generatie te kweken van bewuste pasticheurs waar we het maar verder beter niet over moeten hebben. Clementi's oplossing was uniek en onverbiddelijk. Als 'falling in love again' (Marlene Dietrich zal me hopelijk het lenen van de foutieve Engelse vertaling van een van haar favoriete liederen vergeven) onvermijdelijk is, als Schumann, Chopin, Brahms ondanks alles hun invloed laten gelden, dan is de vraag - zoals altijd met verliefd worden - wat hieraan te doen is. Vleselijke lusten vormen een bekende ontsnappingsroute (als het onderwerp van de passie dit toestaat tenminste); esthetische ervaringen zijn niet zo makkelijk te ontwijken. Maar als er al bevrijdende inspanningen moeten worden geleverd, dienen deze technisch van aard te zijn. Het opeenstapelen van verschillende versies van de 'petite phrase' van het moment, ze verschuiven, berekenen, aanpassen tot het muzikaal zinvol wordt, en dan te demonstreren door het vertragen van opeenvolgende versies van het object dat de muzikale betekenis diepgaand kan veranderen met verschillende tempi: dit is Clementi's manier om ons te laten zien dat dat wat een monument aan 'le temps perdu' lijkt te zijn, een stoïcijns markeren van onomkeerbaar verlies, in feite een redding is van muzikaal potentieel. Het zal de luisteraar niet veel helpen de bronnen van Clementi's uitgangspunten te nemen: soms deelt hij ze mee (zoals in ...im Himmelreich), soms worden ze slechts aangestipt (zoals in Trio). Soms traceren individueel hoorbare lijnen de profielen van expressieve gebaren en soms is de klank van het ensemble rijk aan associatie. Soms ook is er een vrolijke incongruentie tussen de associaties van de titel en het klinkend resultaat. Uiteindelijk, wat Clementi's titels ons voornamelijk zeggen, door de sobere kaalheid van labels als Tre Canoni, Ottetto, Trio, is natuurlijk dat er niets meer te zeggen is maar des te meer te luisteren valt. David Osmond-Smith
De muziek van elk van de drie instrumenten is statistisch afgeleid van de corresponderende partijen van elk van de volgende drie pianotrio's: La Chasse in C (1788) van Muzio Clementi (in één deel), Trio no. 2 in F (1847) van Robert Schumann (eerste deel) en Trio in a (1914) van Maurice Ravel. De stukken beginnen gelijktijdig en eindigen veertig seconden na elkaar in de bovenstaande volgorde. Onderstaand diagram laat de compositorische structuur van het werk zien: de drie instrumenten zijn symbolen in hun respectievelijke spiralen. Aan het begin (het midden van de diagram) zijn de drie verschijningsvororiginele trio's elk met 33% vertegenwoordigd. De afstand van elk instrument ten opzichte van de hoekpunten C (Clementi) S (Schumann) en R (Ravel) is omgekeerd evenredig tot de aanwezigheid van de muziek van de betreffende componist. Clarence Albertson Barlow werd geboren op 27 december 1945 in Calcutta, India. Hij begon met componeren op elfjarige leeftijd en behaalde in 1965 zowel een diploma van Trinity College of Music, Londen als een graad in natuurwetenschappen aan de universiteit van Calcutta. Hij studeerde electronische muziek en compositie aan de Musikhochschule in Keulen tussen 1968 en 1973 bij Bernd Alois Zimmermann en Karlheinz Stockhausen. Van 1966-1968 doceerde hij aan de Calcutta School of Music, van 1982-1994 bij de Ferienkurse für neue Musik in Darmstadt en van 1984 tot 2005 computermuziek aan de Hochschule für Musik in Keulen. Van 1990 tot 1994 was hij artistiek directeur van het Instituut voor Sonologie aan het Koninklijk Conservatorium in Den Haag alwaar hij van 1994 tot 2006 ook compositie en sonologie doceerde. Sinds 2006 is hij Corwin Professor aan de University of California in Santa Barbara. Hij heeft sinds 1971 vele experimenten gedaan op het gebied van metrum en tonaliteit en was de mede-oprichter van GIMIK: Initiative Musik und Informatik Köln.
The relevance of John Cage
Pianist John Snijders and conductor Arie van Beek discuss John Cage's Concert for piano and orchestra.
John Cage: Two6 (1992)
John Cage (1912-1992):
Two6
, for violin and piano (1992). Josje ter Haar, violino John Snijders, pianoforte "Two6" contains long-held tones. The time-brackets are empty and have to be filled by the performers. The pianist can perform parts of the Extended Lullaby (a set of 12 chance determined variations of the cantus firmus and the counterpoint of "Vexations" by Erik Satie) and/or play fragments of sequences of ascending pitches. These sequences "were related in the composer's mind to the "musical train" of Duchamp, a rather colorful metaphor to assert octave nonequivalence. Duchamp represented each octave of the piano range as a seperate train, with the notes in each "train" a "car"." (Rob Haskins: "An Anarchic Society of Sounds: The Number Pieces of John Cage"). The violinist can choose between silence, microtonal passages, or "dyads to be chosen from any of eight pitches selected by chance operations and arranged as a single sonority" (Rob Haskins).
John Snijders
BIOGRAPHY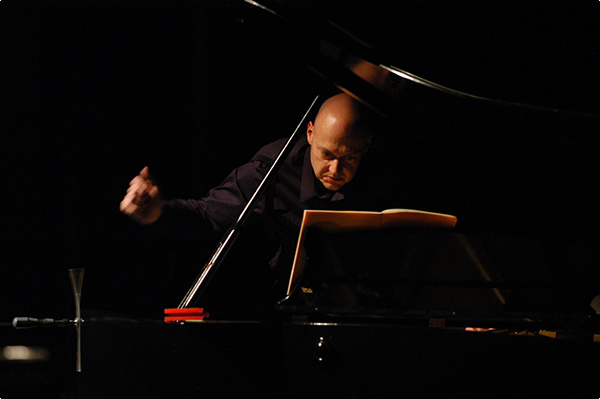 JS H'field 2005
John Snijders was born in Heemskerk (the Netherlands) in 1963.
He studied at the Royal Conservatory The Hague with Geoffrey Madge (piano), Stanley Hoogland (fortepiano) and Louis Andriessen (composition). In 1985 he won first prize at the Berlage Competition for Dutch chamber music. He performed as soloist with a.o. the Dutch Ballet Orchestra, The Brussels Philharmonic, The Hague Philharmonic, Dutch Radio Philharmonic Orchestra, Radio Chamber Orchestra and Dutch Radio Symphony Orchestra. From 1988 until 2013 he was a member of the Nieuw Ensemble Amsterdam. In 1986 he founded the Ives Ensemble, of which he continues to be pianist and artistic director. Both as a soloist and with these groups he has performed extensively at most major music festivals in Europe such as Festival d'Automne (Paris) Huddersfield Contemporary Music Festival (UK), Wien Modern (Vienna), Ars Musica (Brussels), Musica (Strasbourg), Settembre Musica (Turin), Bienale di Venezia (Venice). Furthermore he has worked extensively as a rehearsal coach for Netherlands Opera, Dutch Travel Opera, Holland Festival, WDR Köln, English National Opera. In 2008 he was teacher of piano and chamber music at the Festival Internacional de Inverno de Campos de Jordão (Brazil). Also in 2008 he was awarded the Muziekgebouw Prize 2008 for the performance of NYConcerto for piano and chamber orchestra by Richard Rijnvos. Since 2013 he is head of Music Performance at Durham University (UK). Several composers wrote pieces especially for him such as Gerald Barry, Christopher Fox, Richard Rijnvos, Gerard Brophy, Ivo van Emmerik, Rodney Sharman, Richard Ayres and Clarence Barlow. Snijders is especially interested in establishing connections between contemporary music and contemoprary visual arts. Other focus areas include the American avant-garde, especially Morton Feldman and John Cage, music of extended duration, and sound art.
John Snijders personal art collection
Steven Aalders
NL
Isabel Albrecht
DE
Dan Bayles
USA
Tom Benson
UK
Bernadette Beunk
NL
Pierre Bismuth
FR
Toon van Borm
BE
Kasper Bosmans
BE
Martin Brandsma
NL
Paul Caffell
UK
Jodie Carey
UK
Susan Collis
UK
Ian Davenport
UK
Peter Davis
UK
David Connearn
UK
Charlotte Dumas
NL
Bas Geerts
NL
Joachim Grommek
DE
Terry Haggerty
UK
Alexis Harding
UK
Kevin Harman
UK
Lieven Hendriks
NL
Howard Hodgkin
UK
Ian Homerston
UK
Scarlett Hooft Graafland
NL
Callum Innes
UK
Jus Juchtmans
BE
Karóly Keserü
HU
Chun Hei Kong
HK
Gabriel Lester
NL
Liox
FR
Julia Mangold
DE
Stefana McClure
UK
LocalStyle
USA
Sam Moyer
USA
Jochen Mühlenbrink
DE
Carsten Nicolai
DE
Olphaert den Otter
NL
Paul Raguénès
FR
Natasha Rosling
UK
Martijn Schuppers
NL
Judith Schwinn
DE
Davina Semo
USA
Phil Sims
USA
David James Smith
UK
Sarah van Sonsbeeck
NL
John Stezaker
UK
Koen Taselaar
NL
Damian Taylor
UK
Alan Uglow
UK
Christine Unger
CA
Ignacio Uriarte
DE/ES
Frank Zweers
NL